Meet Francesca Brice. Successful business woman, entrepreneur, parent, perfumer, frisky bohemian, lover of adventure, travel and all that life has to offer. And if it's not offered…she'll go looking. Born in Wellington, Francesca lived out a cheeky childhood. At the age of 20, she did the OE thing and found herself in Greece which is where her adventures into perfume began. Now she is back in New Zealand, but never one to sit still for long, she travels extensively, immersing herself deeply in the countries and cultures she experiences. This lady has stories to tell…that's for sure!!
So, here are a few gems; some insights into the colourful life and times of Francesca Brice and her newest brand Fiji Spice Queen. I love the way she writes so whilst I came up with the questions, the answers are all her own words.
When was your first visit to Fiji and what was it in particular that inspired you to create the spice queen..??
The first real visit to Fiji came in about 2002 when I was on holiday there with Kate, my business partner in Pacific Perfumes. Those of you who have a self made business will understand it always travels on your shoulder, especially at the beginning. Strolling through Nadi we decided to check out the possibility of selling our Perfumes there and bingo! We ended up in the executive boardroom of a large corporate tourist retailer there. Wearing holiday gear and with a handful of testers and a couple of restless kids in tow we clinched a deal to supply a few starter packs of solid perfumes to them.
Years later and with friendships under my belt, another major retailer friend suggested I create some skincare in Fiji and my enthusiasm was ignited. Borders have never inhibited me. Of course, I could never have done it without my wonderful friend and Co-Founder of the Fiji Spice Queen, Linley Ramsay, who brings a whole lot of talents to the mix. We started school together and when I was looking for a partner and asked her, she was right in there. Just like we did as kids. The playing field is different but our energy is the same. We really balance and support each other out through the challenges, the highs and random balls that get thrown at us.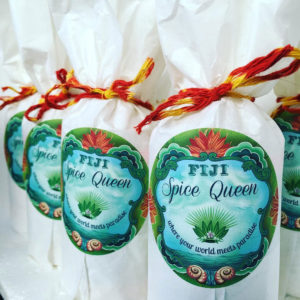 Whats the story behind the name of this brand….??
As a perfumer for my other company, Pacific Perfumes I interact with a blog called CafleureBon, a perfume and beauty blog featuring perfume reviews, beauty news, perfumer interviews, etc. The Editor in Chief, Michelyn Camen who is an amazing woman, suggested that I create a perfume called Fiji Spice Queen. I immediately fell in love with the name but couldn't feel the essence of how a perfume would unfold, how to do justice to such a powerful name. It excited me enough to hang around in my head so when the concept of a skincare range was born it was clear that the Fiji Spice Queen was a title that could take on a skincare range, a Legend and more. I'm forever grateful to Michelyn for the gift of her creativity.
You're experienced at this….!! You know there are heaps of beauty brands out there. How is the spice queen different and how do you keep coming up with new and exciting things for her to be..??
Fiji Spice Queen is Fiji's first Certified Cruelty Free skincare company and we are setting a real point of difference there in Fiji. We want to educate people about this. It means people connecting more with animals and realising that they deserve to be treated with respect. There's a long way to go everywhere with this and especially in Fiji as people have not had the educational opportunities about animals that we have here in New Zealand. There are some terrific people on the ground there working for animals. Let's give a shout out to animalsfiji.org.
We also have a vision to collaborate with other companies in Fiji to produce more of the natural raw ingredients that we use in our skincare, which currently we must import. We're working on this. Our skincare is top notch – we worked with Dr Wendy Maddocks, (a whizz in the lab) here in New Zealand to produce formulas which are truly nourishing and rich with goodness and we didn't compromise on this. We harness the goodness of pure organic Coconut oil, Dilo oil (a true healer) and Noni and we use Fair Trade raw sugar in our Scrubs.
Finally, as a company we'd like to be a forerunner with sustainable environmental practises and how we share the economy, collaborating with community partners on issues such as waste education, getting into schools and instigating projects with kids. We'd like to become an influencer for other local start-ups in Fiji, with a special focus on gender equality issues.
You travel a lot – obviously Fiji has been a huge inspo for you after Greece. Are there any other places close to your heart, and why/how have they left such a lasting impression..??
I have always loved India as a place to travel. It's so wild and uncontrolled in many ways. It appeals to my emotional, spiritual side where the fact that animals wander the streets, cows, camels, monkeys and even elephants is a world I like. It's chaotic but I find peace there. I have to also mention Japan where Zen Temples, Harajuku Bridge, Snow Monkeys, Hokusai and Horseback Archery have all contributed to my rich travelling experiences…and meeting the Tokyo designer who created the Issey Miyake catalogue for his Pleats Show. Inspirational.…
I like to feel that my identity is fluid when I travel. It can shift from who you were before you traveled, who you are in the present (surrounded by difference) and where you are being led to in the future. It's freedom from convention in many ways. After leaving Greece I realised that a part of the attraction of living in a different culture was the fact that I was apart from it. Being a "Xeni' or 'foreigner' as I was called then gave me much more leverage to do things differently and a logical explanation/reason in other peoples (Greek) minds for it 🙂
If you could teach us a lesson about business, what would it be..??
Push past the 'Idea' as a word and make it a reality. With attention and focus you can make it happen. When I need some encouragement I look up at my wall and read my favourite quote which for me, says it all:
'Whatever you can do or dream you can do, Begin it! Boldness has genius, power and magic in it. Begin it now!'
Are you still in love with Elvis..?? Fave song..??
Sadly Elvis and I have parted 🙂 Fave enduring song and one I want at my funeral is Imagine by John Lennon. I love the remix version of this by Herbie Hancock featuring Pink, Seal, India Arie, Jeff beck, Oumou Sangare and Kokono No.1.
Thanks so much Francesca. I have thoroughly enjoyed reading your answers and finding out more about you and the Spice Queen…I'm listening to Herbie's version of Imagine as I write this – very cool. You're an inspirational lady and I'm excited to be part of the Fiji Spice Queen's journey.
To find out more about Fiji Spice Queen and shop their range visit their Green Elephant Store.
---
Words and images provided by Gillian at Green Elephant. Read more from Gillian on their blog.